What is the product selector exactly?
The One For All product selector is the ultimate digital tool to help end consumers find the right TV accessory they need. In just a couple of simple steps, our smart selector (aka wizard) offers personalized advise to our customers to help them choose what product to buy based on their input. We understand that finding the correct remote control, antenna or wall mount can be a difficult and weary process. This blog explains the magic behind our selector tool!
Remote selector
When you break or lose your remote control,we understand you want to replace it immediately. This is because everyone loves to relax on the sofa and watch TV, therefore finding the right remote control is a big priority. One For All has a wide range of replacement TV remotes which will work exactly the same as your original one. We also have universal remotes for those looking to consolidate several remotes into one offering control of multiple AV devices at once. Following 3 simple steps, our remote selector helps you select the right remote control for your home situation!
Antenna selector
As you probably know, cord-cutting is all the rage. More and more people are looking for the right TV antenna to watch TV for free. We know there are multiple factors to consider when choosing the right TV antenna. Do you live in an urban or rural area? What is the distance between your location and the nearest TV transmitter? Thanks to our up-to-date database, our antenna selector answers these questions and advises you on which TV antenna to purchase.
Wall mount selector
When you buy a new TV you usually have to buy a new TV wall mount to go with it. Choosing the right wall mount depends on different factors. The most important question is: what is my VESA size? This depends on the brand and size of your TV. Another important factor to consider is the placement of your TV and the features of the wall mount. Do you need it to tilt and turn or stay fixed against the wall? We cover all these questions in our wall mount selector and advise you which wall mounts best suit your situation.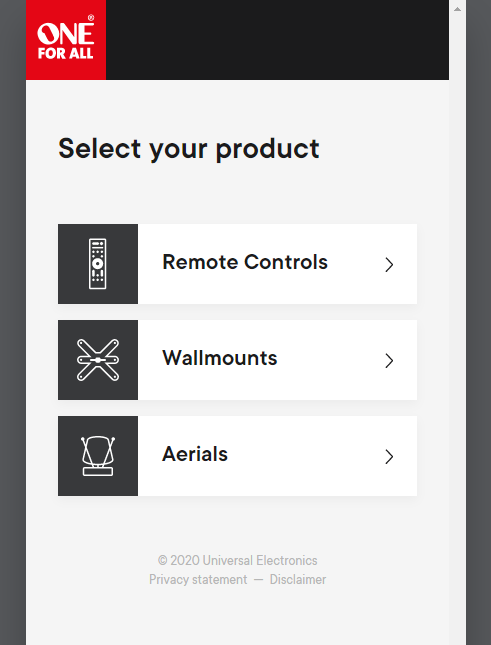 The magic behind it
The magic behind our product selector tool is our very own advanced and extensive database. Based on your input, this database offers you exactly the right advice and guarantees you to find the product that is perfect for your home situation. As the TV (accessories) market develops at a fast pace, ensuring our database stays relevant is a huge challenge. We overcome this by keeping our product selector freshly updated and always offer customers the very best advice. We are experts in this field - constantly scanning the market for updates and having efficient protocols to implement new reliable data.
In-store opportunities

At One For All, our customers are key to our strategy. Understanding the different journeys enables us to offer a seamless shopping experience – both online and offline. A lot of customers visit a physical shop when they are looking to buy a remote, tv antenna or wall mount, as they often need advice on which one to buy. Based on this idea, we have developed our 'In-store product selector' to help advise customers on what product to buy. Customers simply have to scan a QR code at the POS (Point of Sale) to use our tool (See example above).
To further our close collaboration with retailers, we are now able to personalize this tool so it can be integrated onto a retailers website. This means we can customise the look and feel of the tool and include any product line to fit the retailers needs. This has proved to be extremely efficient in boosting sales and reducing returns, as customers can buy the correct product directly from the shelf.
Opportunities for online use
Online shopping has grown rapidly over the last few years. Helping the customer to find the right product is a major part of our online strategy. Following this trend, the integration of our tools onto retailers' websites is a great opportunity to complete the online customer journey. After customers have gone through the steps of the tool, they receive personalized results. All advised products include a link to the product page of the specific retailer. This certainty of choosing the right product significantly increases conversion rates! Giving customers a seamless shopping experience without leaving the retailer's website. A perfect example of this is the aerial category page of Harvey Norman.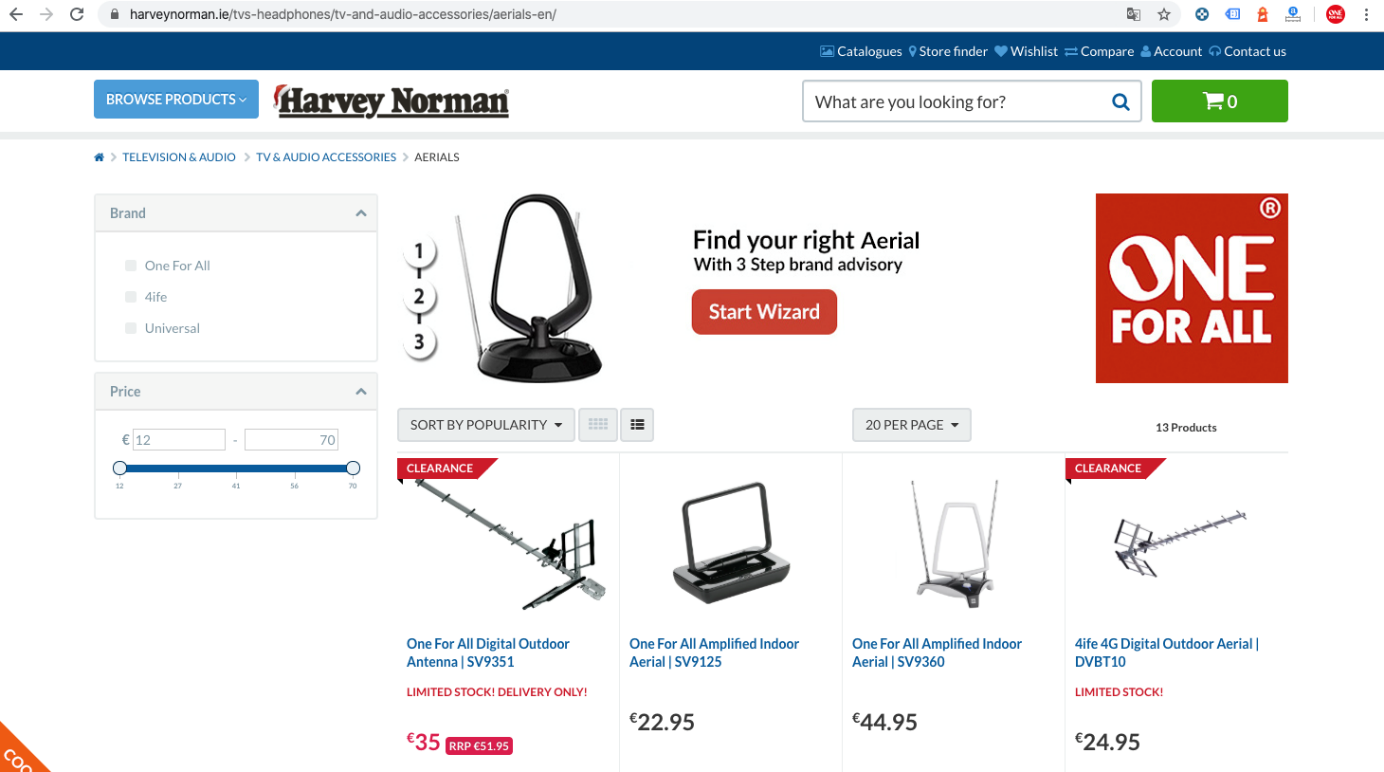 Opportunities for customization
As mentioned previously, retailers have the opportunity to customize the product selector. This includes the product line-up, language, look and feel (for example: adding your own brand logo or changing the font colours) and of course using your own URL. A great example from 2019 is the tool we made for Elkjop (click on the hyperlink to view them). This example show how easily the product selector can be fully integrated onto a retail website. 
Please feel free to contact us to discuss the opportunity of working together and customising our tools for your brand! We would be happy to hear from you!