What is the VESA Standard?
The VESA Interface Standard defines the distance in millimeters between the four mounting holes on the back of a TV (distance horizontally x distance vertically). VESA is a standard used for TV wall mounts and wall mounting systems, adapted by most TV brands. Common VESA sizes are 200 x 200, 400 x 400 and 600 x 400 depending on the screen size of your TV.
Where can I find my VESA size?
You can refer to the specifications in the product manual but perhaps the fastest and easiest way to find out the VESA size of your TV is just by measuring it. Locate the four holes in the back of your television, you just need to measure these from left to right and top to bottom. By now you should know the horizontal and vertical distance, between the holes and therefore the VESA size of your TV.
A visual example shows you where you need to measure:
Image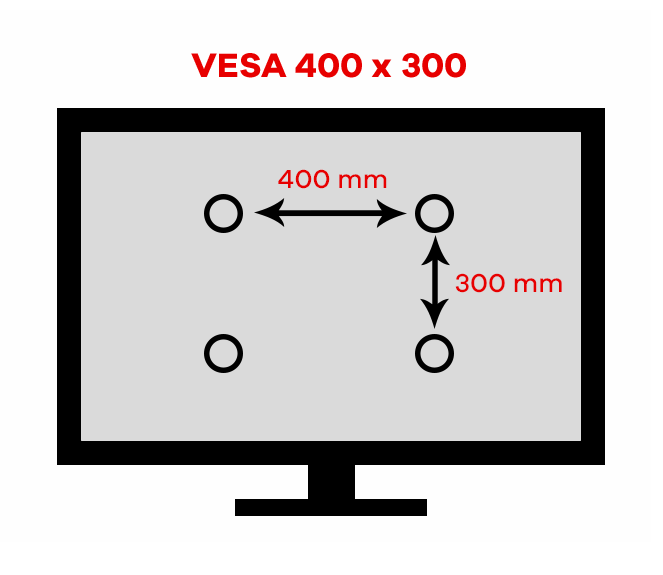 Horizontal distance is 400 millimetres and vertical distance is 300 millimetres. The required VESA size in this situation is 400x300.
One For All offers a full range of TV wall mounts for every VESA size
Explore our affordable Smart, robust designed Solid or high quality Ultra Slim wall mounts suitable for most screen and VESA sizes. Our TV wall mounts work with all types of TVs of any brand.
VESA 75 x 75
VESA 100 x 100
VESA 200 x 100
VESA 200 x 200
VESA 300 x 200
VESA 300 x 300
VESA 400 x 200
VESA 400 x 300
VESA 400 x 400
VESA 600 x 400
VESA in summary
To sum up, VESA is a standard adopted by all important television manufacturers. It is the distance between the mounting holes in the back of the TV in millimeters. Whether a TV wall mount is fixed, tilt able, turn able or swiveling, the VESA mounting size is always the same: horizontal x vertical distance in mm.
Also be sure to check out our blog on how to wall mount a television in our step-by-step guide.
Find the right TV wall mount
One For All TV wall mounts have been designed to ensure a sturdy support for all televisions of all brands, such as Samsung, LG, Philips and Sony as well as lesser-known brands. All of our wall mounts are compatible with the VESA Interface Standard, ensuring a perfect solution for any TV or VESA size.
Find the ideal TV wall mount for your home in a few simple steps using our wall mount selector: