At One For All we are committed to deliver meaningful innovations that are truly universal. With our products sold in over 5,000 stores across North America and 13,000 stores across Europe, we are a true specialist when it comes to audio-video accessories.
As part of our expansion strategy, we recently partnered up with Elkjop, the largest consumer electronics retailer in the Nordic countries, with over 400 stores, giving us the opportunity to strength our brand presence in the Scandinavian region.
One For All as the main TV wall mount brand in all Elkjop stores
After going through One For All's impressive line-up and carefully reviewing our proposal, it was decided to move away from private label and go with One For All as the main wall mount brand, offering a strong range to meet all customers' needs.
We are proud to say we gained presence in more than 250 stores, installing a total of 1250 product bays across Norway, Sweden, Finland and Denmark.
Why was One For All chosen?
One of the key factors for Elkjop to choose One For All as a partner, as mentioned by Israr Safdar, Nordic Product Manager TV at Elkjop, was the strength and consistency of the TV wall mount range; instantly easy to understand for the customers and sales employees in stores. The holistic approach towards packaging, POS, online tools and of course the product itself, was also an important element to choose OFA as partner. One For All knows exactly what the customer journey looks like for their products, offering a complete solution for our customers.
One For All was given the freedom to develop and execute a series of planograms and apply our philosophy to them. Elkjop trusted our expertise and together we were able to fine tune and finalise the project to turn in it into a successful story.  
Image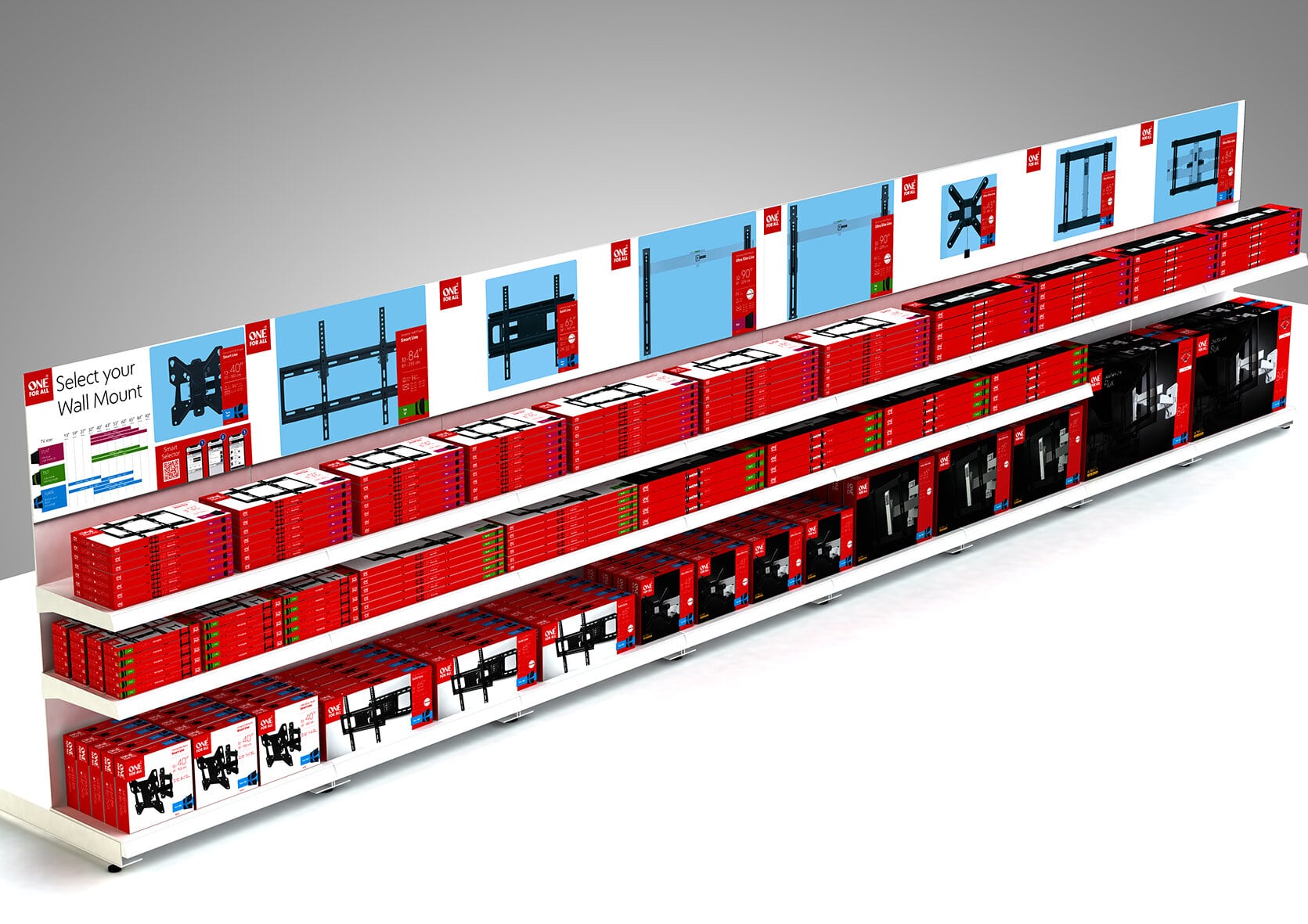 8 metres planogram proposal
As mentioned above, Elkjop went from sourcing their own products and having different brands on their shelves to unifying the business offering One For All wall mounts to cover all segments. This brought multiple advantages in terms of quality and pricing and at the same time, made it more efficient to educate their sales staff and thereby their customers. 
"The experience of working closely together with One For All has been very positive" Israr Safdar adds, "we are looking to partner up with them for the long term."
One For All offers a whole solution based on the customer journey
In general, it's been a very positive project with close collaboration from both sides. One For All has been able to benefit from Elkjop's strengths and vice versa. Offering whole solution based on the customer journey, rather than just a few individual products on the shelves will bring a long-term positive impact.
At One For All we are constantly searching for user friendly solutions for our customers to experience ultimate home comfort. From online to physical stores, our well thought-out strategy always engages with customers using clear and efficient communications. One For All distinguishes itself as market leader, understanding how consumers all over the world interact with their devices.
Results
Israr Safdar, Nordic Product Manager TV at Elkjop: "It is still too early to draw any conclusions. The range has just been implemented so we will have to wait at least 6-12 months before we can thoroughly evaluate the impact of this project. However, the first indications are positive. Our sales staff and most importantly our customers seem to like the products!"
Image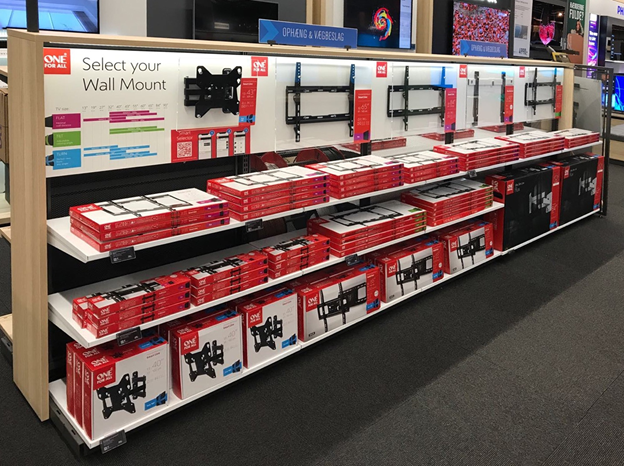 Elgiganten store in Århus, Denmark